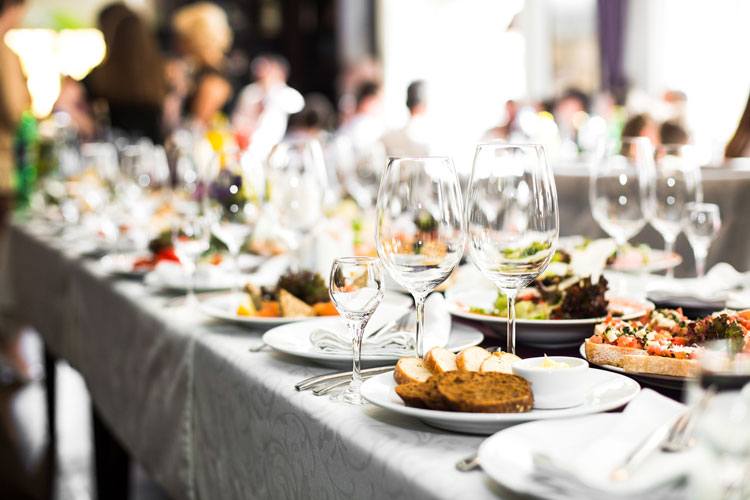 8 Great Catering Ideas for Your Wedding
Do you want your bridesmaid group to have time for pictures after the ceremony and or during your wedding? This time can easily get away from you, so finding something that will feed your guests is important. You don't want to come back from your picture-taking, to find that your guests have had a little too much to drink and not enough food. Let's look at 8 wedding catering ideas to create a theme and tie everything together. 
When you begin planning your Omaha wedding, you will receive a lot of advice from friends and relatives about what they did during their ceremonies. Traditions can be charming, of course, but you may not want to conform to the norm. We wanted to take a look at some options you might have to offer your guests, for a better experience at your reception. 
Wedding Catering | Wedding Food Ideas
Your guests will spend the majority of their time at the reception, so make it stand out from the crowd. Check out these eight creative catering ideas for your Omaha wedding reception that will both look and taste fantastic.
Mix and match these ideas, based on what you, your fiancé and your Omaha bridesmaid party enjoy. Don't be afraid to add your own touch to these ideas as well. We want your Omaha wedding to be perfect, let's get started on some idea sharing! 
1. Appetizers During Cocktail Hour
Who says your reception and cocktail hour can't coexist? As you take photos with your wedding party, and begin serving your celebration dinner, your guests can begin dinner with small appetizers, which then will move them onto the main course once you arrive.  
This is a great idea, if you believe your photos will take a long time. You want to ensure you have enough time with your Omaha bridesmaid group, but not leave your guests waiting and hungry. You can eat with your guests as a newly married couple when you arrive.  
2. Desserts Stations
It's easy to forget about sweets, when you have so many decisions to make. You may want to create catered stations that highlight one or two desserts. Grab-and-go stations are very popular at weddings. It doesn't necessarily have to be deserts, but who doesn't like deserts? Choose seasonal treats such as pumpkin pie or candied apples. You could also set up a beautiful cake pop display.
Professional caterers can also be hired for specialty sweets, like an ice cream bar. It all depends on your preferences, and the type of dessert catering that will complement your wedding theme. 
WEDDING FOOD STATIONS THE BEST WEDDING CATERING IDEAS
3. Interactive Taco Bar
A taco bar station can allow guests to make their own, but this also leaves the potential for them to ruin their expensive clothing. To avoid any fashion disasters, have a server behind the table to assist guests, in creating their own tacos and ensure the toppings aren't dripping with sauce, grease and or aren't excessively sloppy. Beans, cilantro, lettuce, cheese, pico de gallo, and guacamole are all good toppings. However, you can also add various items, such as jalapenos, sour cream, rice, corn, pickled cabbage, beef, pork, chicken, or shrimp.
4. Gourmet Popcorn Stand
During the cocktail hour, or as a late-night snack, serve this classic snack with a twist. Your visitors will enjoy munching while chatting, and your wallet will thank you. This is an excellent and affordable way to add something to munch on, while your guests are dancing the night away.  
5. Elegant Charcuterie Board
What better way to celebrate the finer things in life, with your partner than with charcuterie? These massive meat and cheese spreads have wowed wedding guests recently, and are likely to be a hit. You can choose meats, cheeses, fruits and veggies. They are always put on display in a beautiful manner, and will allow guests to graze throughout the night. 
6. Decadent Ice Cream Bar
We are all striving to be healthy in our regular lives, but this is a party – it may also be the most significant one in your life. So it's perfectly fine to have a "cheat" day, and skip the fruit and salad bars. Particularly when delivering ice cream to the table!
Ice cream bars are a fun twist on conventional ice cream sundaes. Guests can pair this up with the dessert tables. You have to have a nice snack later in the night or during cocktail hour. 
They allow guests to personalize their selections. You might even request that your caterer produce a special flavor, for your Omaha wedding.
7. Donut Delight Station
If your neighborhood has a donut paradise, you should go straight to them and ask them to cater your wedding celebration!
Donuts are a simple dessert that many people enjoy, and there are numerous ways to serve them. They are also very affordable!
You can choose from a choice of large and tiny doughnuts, or have them freshly prepared and served warm with sprinkles on top, honey, or hot chocolate.
If you want to go all out, request a chocolate fountain, so folks can dip their donuts and taste a little bit of bliss. You could add fruit to the table, so that your Omaha wedding guests have some options with the chocolate fountain.
8. Brunch-Themed Reception
If you are looking for a very affordable option, you might want to consider a brunch wedding. The first meal of the day is usually less expensive due to the items required: lots of eggs and potatoes and less meat. So, plan a daytime wedding with a brunch menu! Some of the breakfast options are pastries, fruit, omelets, scrambled eggs, pancakes, French toast and quiche. Furthermore, it is unique, and also making your cuisine memorable for your guests. This is a great way to save some money, but still offer your Omaha wedding guests a beautiful reception. 
There are so many creative catering ideas for your wedding reception that you may feel overwhelmed. Consider yourself a guest at your own Omaha wedding. What do you want to drink, eat and see? Follow your instincts and do what you prefer. It's your big day, and whatever you decide to serve, will be OK with your guests. 
Conclusion
Your wedding catering should reflect your personal style and taste. These eight ideas are just the beginning. Let your creativity flow and choose options that resonate with you and your partner, ensuring your wedding day is as unique and special as your love story. The stylists at Spotlight Bridal have worked alongside many of the local caterers and can give advice and ideas.
The Dos and Don'ts of Wedding Menus | HGTV