Emily and Austin
In the heart of Louisville, Nebraska, a love story blossomed, and it was destined to be celebrated amidst the crisp, golden hues of fall. Emily and Austin, two souls deeply in love, embarked on a journey that led them to a picturesque outdoor wedding at Lilac Hill Wedding and Event Center. This enchanting day was filled with love, laughter, and unforgettable moments, all perfectly complemented by Emily's stunning ballgown with lace overlay and Austin's dashing burgundy tuxedo, both sourced from the fabulous Spotlight Bridal in Omaha, Nebraska.
A Love Like No Other
Emily and Austin's love story is a tale of serendipity. They met through a mutual friend, and from the moment their eyes met, their hearts knew they had found something special. Their relationship blossomed, as did their dreams of a life together. When they decided to take the plunge into forever, they chose Louisville, Nebraska, as the backdrop for their love-filled day.
Spotlight Bridal: Dressing Dreams in Style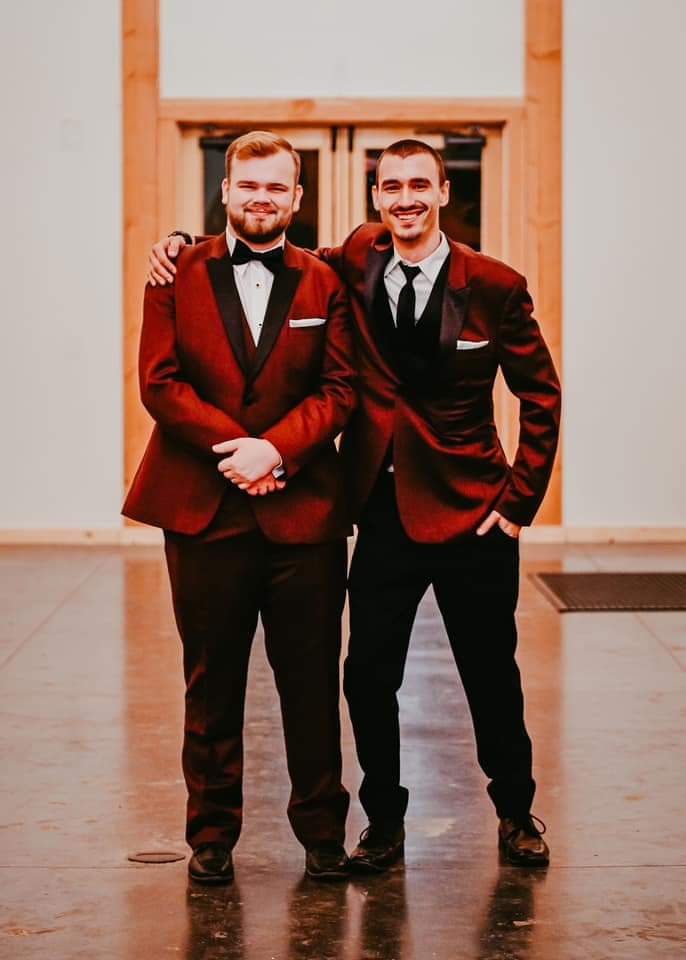 Every bride dreams of finding the perfect wedding dress, and Emily was no exception. Her journey led her to Spotlight Bridal in Omaha, Nebraska, where her dream came to life. With the guidance of the expert staff, Emily discovered a breathtaking ballgown with a delicate lace overlay. The dress embraced her with elegance and grace, making her feel like a true princess ready to embark on her happily ever after.
While Emily found her fairytale dress, Austin had a very specific look in mind for his wedding day. At Spotlight Bridal, he found the perfect match for Emily's gown – a striking burgundy tuxedo. This choice showcased not only his impeccable style but also his love for Emily, as it perfectly complemented the autumn color palette of their wedding.
Lilac Hill Wedding and Event Center: Nature's Perfection
Lilac Hill Wedding and Event Center in Louisville, Nebraska, was the idyllic choice for Emily and Austin's wedding. The rustic charm of the outdoor setting combined with the vibrant fall foliage created a breathtaking backdrop for their special day. Underneath the clear, azure skies, they exchanged heartfelt vows surrounded by the beauty of nature.
Their ceremony was filled with love and emotion, and it was a testament to the deep connection Emily and Austin share. The joy that radiated from their smiles was mirrored by the beauty of the season.
A Barn Reception: Rustic Elegance
Following the ceremony, guests were treated to a charming barn reception. The rustic setting was adorned with autumn-themed decorations, creating an atmosphere of warmth and coziness. Laughter and love filled the air as friends and family toasted to the newlyweds.
Emily and Austin's wedding day was not just a celebration of their love; it was a celebration of the season, of the beauty that comes with change, and of the beginning of a new chapter in their lives together.
In Love and Autumn's Embrace
As Emily and Austin danced the night away under the starry Nebraska sky, their love story came full circle. Their wedding day was a reflection of their unique personalities and the journey they had embarked upon together. From Emily's enchanting ballgown to Austin's striking burgundy tuxedo, every detail was chosen with love and care.
As they venture into their life together as husband and wife, Emily and Austin carry with them the memories of their beautiful fall wedding – a day filled with love, laughter, and the promise of an autumn-filled love story. Here's to Emily and Austin, a couple whose love shines as brightly as the fall leaves, and whose journey together promises a lifetime of warmth and beauty.